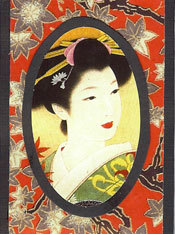 To book our group to perform for you privately, or at your public venue, please contact Xuemei Yiyuan.
PUBLIC PERFORMANCE COSTS.
1. Flat booking fee of 500L per Geisha/Maiko/Minarai for a 1 hour show, paid to the Oka-san Xuemei Yiyuan, payable before the performance.
2. All tips earned during a performance are kept by the performers.
PRIVATE PERFORMANCE COSTS.
Private performance costs are based upon the rank of the Okiya members hired, as the more experience a Geisha has, the more refined the entertainment they provide. Tipping above the minimum hourly fee is most welcome.
Private shows generally consist of 2 people: one senior to entertain the client(s), and a junior to provide music and assist the senior. However, the number of entertainers hired may be greater than 2, or just a single Geisha or Maiko, dependent upon the clients needs. Minarai must NEVER perform alone for private clients and are usually only in attendence to play music.

1. Geisha: 600L per hour.
2. Maiko: 400L per hour.
3. Minarai 200L per hour